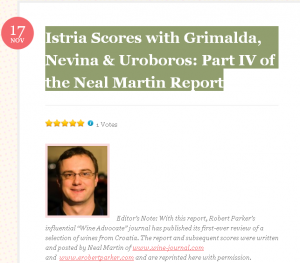 Saturday June 11th, 2011 * Luka
Editor's Note: With this report, Robert Parker's influential "Wine Advocate" journal has published its first-ever review of a selection of wines from Croatia. The report and subsequent scores were written and posted by Neal Martin of www.wine-journal.comand www.erobertparker.com and are reprinted here with permission.
In Part IV of his report, we present Mr. Martin's reviews and scores (based on a 100-point scale) of wines from the Istria region of northwest Croatia, which Mr. Martin tasted in May 2010. The opinions and reviews contained herein are purely Mr. Martin's work and are subject to copyright and may not be republished elsewhere without permission of the author.
Tasting Notes: Istria
2008 Matosevic Alba Barrique – 86
This Malvasia from Istria has a fine nose with well-integrated oak, notes of fresh green apple and a touch of hazelnut. The palate is ripe with fresh acidity, quite malic on the finish with lime zest and citrus fruit. Simple but well made. Tasted May 2010.
2004 Matosevic Alba Robinia – 82
The Malvasia '04 has slightly lower alcohol comparative to others in the range, with a rounded, rather buttery nose with tropical fruit. The palate has a lively entry, but the middle is disjointed and attenuated towards the finish. Tasted May 2010.
2008 Matosevic Grimalda (White Blend) – 87
The blend being 50% Chardonnay, 25% Sauvignon Blanc and 25% Malvasia Istriana, the White Blend has fine definition on the nose with apple-blossom, pear and candle wax. The palate has a ripe entry, lightly spiced with a hint of ginger and watermelon on the clean, crisp finish. In a word: tasty. Tasted May 2010.
[source]