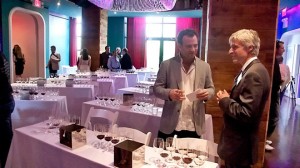 Saturday June 25th, 2011 * Luka
NEW YORK – June 13, 2011 marked the first-ever grand portfolio tasting of Croatian wines, which took place at Hudson Terrace in New York City. Cliff Rames, founder of Wines of Croatia, an organization that promotes the wines and lifestyle of Croatia, led an educational winemaker seminar. A tasting on the terrace followed, featuring Croatia's signature native varieties including Malvazija, Pošip, Teran, Plavac Mali, Graševina and Žlahtina.
"There are three important things you need to know about Croatia," Rames said. "First, while it might be new to some of you, Croatia has been a winemaking culture for a very long time. Americans are surprised that Croatia makes wine. I like to refer to [Croatia] as 'the new old world.' They are old world, but new to us."
"Second is location, location, location," Rames said. "Croatia is not really Eastern Europe, not really Central Europe, not really Southeastern Europe; it's kind-of all of the above and none of the
above. 'Mediterranean country' is how we tend to define it. Some[Croatian] vineyards are the most beautiful places on Earth—vines clinging to rocky slopes leading down to the Adriatic Sea, vineyards on islands that are covered with wild rosemary and olive trees."
"Third, Croatia has a fabulous array of indigenous grape varieties, many of which don't grow anywhere else on the planet," Rames continued. "Some people ask, 'Are these oddball wines?' I like to say off-the-beaten-path wines. They're wines of character, with authenticity and a sense of place."
Croatia offers mostly small-production, handcrafted boutique wines. There are 17,000 registered vine growers, and 33,000 hectares of vineyard surface area. Every year, Croatia produces 65 million liters of wine. "Wine growing and wine drinking is an inherent part of the Croatian culture, lifestyle and tradition," Rames said. When Croatia became part of Yugoslavia, winemakers were required to sell their grapes to big cooperatives, which created a focus on quantity rather than quality. Now, with a new generation of winemakers, Croatia is turning the page to a new chapter of Croatian winemaking.
Guests had an opportunity to meet some of the producers and distributors of Croatian wine on a grand terrace overlooking the Hudson River. Among importers who represent Croatian producers were Blue Danube Wine Company, Tasty Wine Company, Vinum USA, Oenocentric, Katharine's Garden, Empty Glass Wine Company, and Dalmata.
The full list of wineries represented: Agrokor vina, Bibich, Bodren, Cattunar, Coronica, Degrassi, Enjingi, Grgich, Ivan Katunar, Karaman, Katunar vinarija, Korta Katarina, Kozlović, Krajančić, Krauthaker, Matošević, Miloš, Bura-Mokalo, Nada, Pavlomir, Piližota, Piquentum, PZ Čara, PZ Dingač, PZ Gospoja, PZ Putnikovic, PZ Svirče, PZ Vrbnik, Roxanich, Saints Hills, Šipun, Tomić, Trapan, Zlatan Otok i Žlahtina Union.
Croatian culinary delights such as the famed Paški cheese were offered by "Gligora", as well as truffle delicacies presented by "Tartufino" and olive oil by "Ritossa Olive Oil". Local restaurants supplied an array of delicious dishes including shrimp gumbo from "Ditch Plains", lobster rolls from "Luke's Lobster", "bakalar," a traditional Dalmatian salt cod dish from "Veslo Restaurant", and mini
beef sliders from "Hudson Terrace".
One could almost feel the passion and inspiration crackle through the space as people milled about and sampled Croatian gastronomic treasures. Joseph Campanale, a sommelier at "L'Artusi", made an inspiring comment that stuck with me: "Croatia has the potential to be a world-class winery." Although Croatia will never compete with huge wine producing countries, its unique wine will surely find its niche, and will be discovered by those who seek quality and individuality.
[source]