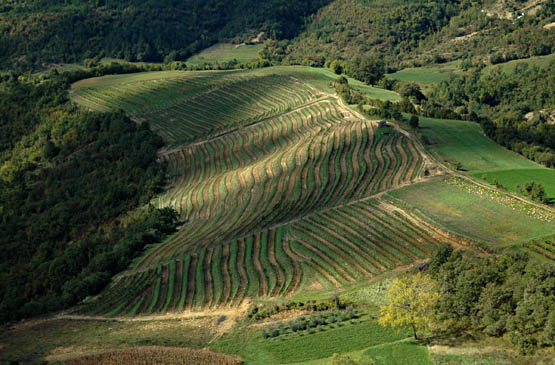 Vineyards
Istrian wine growing sites are located in the northernmost part of the Mediterranean, on white and red earth, ideally exposed to sunlight, perfectly suiting our needs. We are at the 45th parallel, just like some most renowned wine growing regions in the world, and we feel privileged – we can take our wines and play the Champions League.
Grapes used to make our wines come from two vineyard locations. The first is the Buje area in the northwest Istria where we make grapes for fresh and aged white wines, particularly Malvasia, with our long-standing partners. The other location is in central Istria, near the village of Grimalda, where we make two wines of the same name, namely Grimalda White and Grimalda Red, a coupage of white and red grape varieties.
Both locations have long been recognised as top-quality grape positions. In the Buje area, our past fifteen grape harvests yielded high quality wines awarded on numerous occasions. Vineyards of Grimalda may be young, but they have shown their uniqueness and surprised us with their complexity already during the first harvests.
We serve this earth year in and year out and we rise to its challenge. In its green vastness, we primarily grow best grapes, and only then do we use them to make the best wine. Every time you propose a toast with us, we know we have made it!